MEET AT THE LIBRARY
The Cuyahoga Falls Library has meeting rooms that are used primarily for library-related programming. When available, meeting rooms can be reserved for use by others. Library meeting rooms are available to local educational, cultural, civic, social, political, religious, professional and other non-profit organizations at no charge. Units of government and appointed or elected officials may also use library meeting rooms.
Note: Individuals and small groups of 1 - 5 people are encouraged to use a private study room.
AVAILABILITY
When not in use by the library, meeting rooms are available:
Monday - Thursday: 10:15 a.m. - 7:45 p.m.
Friday & Saturday: 10:15 a.m. - 4:45 p.m.
INSTRUCTIONS
You may view room availability and submit reservation requests online.
In the booking system, select the booking type "Meeting Room." Then, select your preferred meeting day on the calendar to view available rooms and times. Click a green square to add 30 minutes to your reservation time; the square will turn dark green. Click the selected square again to remove it from your reservation.
Green squares = Available
Grey squares = Unavailable; this time cannot be booked
Red squares = Clash with another event; this time cannot be booked
Yellow Squares = Denote 15 minutes of setup/teardown time before and after your meeting
Click the button below to review our Meeting Room Policy and submit a request. By submitting your request, you agree to our Rules for Use.
Sutliff Room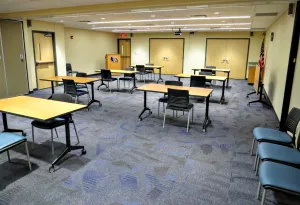 Max capacity:
Chairs only: 77 people
Tables & Chairs: 40 people
Chambers Room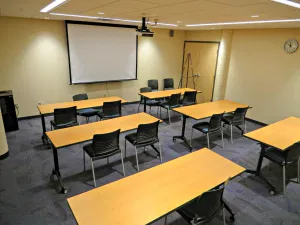 Max capacity: 20 people. Room is always set with tables and chairs.