Please read the below Meeting Room policies before submitting an online request to reserve a meeting room.
---
MEETING ROOM POLICIES


INTENDED USE & AVAILABILITY
The primary purpose of the library meeting rooms is to provide facilities for library-related activities. When not in use by the library, meeting rooms are available:
Monday - Thursday: 10:15 a.m. - 7:45 p.m.
Friday & Saturday: 10:15 a.m. - 4:45 p.m.
Groups
All meeting room groups must have an approved application on file prior to reserving a room.
Meeting rooms can be reserved once a month by non-profit 501c3 and non-commercial educational, cultural and community groups (subject to availability).
Meeting rooms are not intended for commercial businesses, private/social use, study, tutoring, or one-on-one discussions. Individuals and small groups in the above categories are encouraged to use a private study room.
Reservations & Attendance
Meeting rooms must be reserved at least 2 weeks in advance and no more than 3 months prior to your meeting date.
Meeting rooms are intended for groups of five or more. Attendance may not exceed max capacities:

Sutliff Room Capacity

Chairs only: 77 people
Tables & Chairs: 40 people

Chambers Room Capacity

20 people. Room is always set with tables and chairs.
Expectations
The group is responsible for set-up and takedown of tables/chairs. Furniture moved must be returned its original position before leaving.
The library reserves the right to pre-empt scheduled meetings for library activities.
The library reserves the right to attend any meeting held in its facility.
All meeting room activities must be free and open to the public.
SET-UP AND TAKEDOWN
Tables and chairs will be provided by the library. Meeting organizers are responsible for set-up and takedown.
Groups must end the meeting or program, clean up, move tables and chairs to their original position, and exit the meeting room 15 minutes before closing time. The room must be left in the condition in which it was found.

LIMITATIONS
Private social events, religious services or instruction, and sale or promotion of a commercial product or service are not permitted.
All meetings must be open to the public, and no fees may be charged.
Storage of equipment or supplies is not permitted.
Smoking or the use of tobacco is prohibited on library property.
EQUIPMENT & SUPPLIES
Audio-visual equipment is unavailable (includes computers, projectors, extension cords, PA system). A pulldown screen is available in each room. Groups are encouraged to bring their own equipment. Wi-Fi is available in all meeting rooms. Supplies such as flip charts, markers, pencils, pens, and paper must be supplied by the group.

PUBLICITY
The use of a room by any non-library organization shall not be publicized in such a way as to imply library sponsorship.

RESPONSIBILITY
Groups are responsible for loss or damage to library property. The library is not liable for injuries to people or any loss or damage of property of organizations using the meeting rooms. An adult (21 years or older) must book the meeting room. Children and youth groups must have at least one adult advisor present for every 15 children.

REFRESHMENTS
Light refreshments may be served in all meeting rooms. Alcoholic beverages are not permitted. Groups are responsible for clean-up. Cooking and open flames are not permitted.
RESERVE THE MEETING ROOM
Please be sure to review the above policies before submitting your request.
If you have not previously reserved the meeting room during the current calendar year, you must also email or drop off your completed application. Additionally, to use the online booking system called "Spaces," you will need to create an account.
You may submit a reservation request online by clicking the button below.
Sutliff Room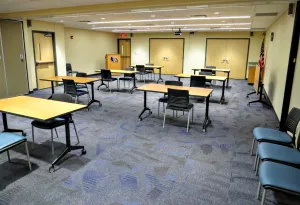 Max capacity:
Chairs only: 77 people
Tables & Chairs: 40 people
Chambers Room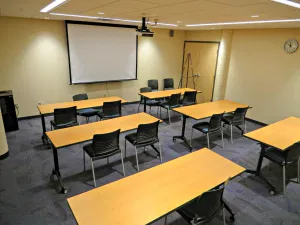 Max capacity: 20 people. Room is always set with tables and chairs.